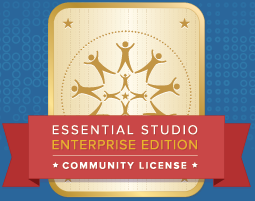 Syncfusion Community License
Indeed a great news from Syncfusion, They are offering the Essential Studio Enterprise Edition as free for Individual and Small Business Developers!
The Community License, which is valued at up to $9,975, provides the most comprehensive toolkit on the market at no cost. All Essential Studio Enterprise Edition and Syncfusion Plus products are included.
Individual developers, or up to five users at companies with annual gross revenue below $1 million USD, are eligible for this license.